Our molded plastic lens solutions
Mold injection of plastic lens is a cheap and efficient way of manufacturing plastic optical components for big quantities orders. With the possibility to have several cavities on one mold, one shot (or one injection) can produce tenths of components. On top of the cost interest is the possibility to inject complex parts in shapes and that may be easier to assemble.  Different materials are available, from PC to PMMA and Zeonex. Plastic optical components are also lighter that their glass conterparts.
Plastic injection for optical components
During the mass production process of optical components, plastic injected lens product is often the most suitable choice. Unit price of plastic pieces appears to be much lower than optical glass. First step in the process of producing plastic components, the mold realization. If there is not much differences between PC and PMMA processing, molding allow a very high fidelity for complex shapes reproduction. Such as aspheric lenses.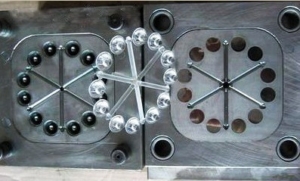 Mold for plastic injection
This molding process is called molding-injection process and fit for the realization of any lens shape. This machine is composed of molding die that ensure a similar volume for all lenses produced, and a great reproductability.
Key elements to consider
In order to guaranty high optical homogeneity it is important to pay attention to four elements :
Purity of injected material (both from other platics materials and from polluants like oil or water)
stable injection pressure
clamping time of the part in the mold
cooling of the parts.
Plastic components are softer than glass so easier to scratch. To lower this risk thermal hardening of the plastic injected parts is possible.
Most commun optical plastics
Casting of optical components is usually done with below materials :
| | | | | | |
| --- | --- | --- | --- | --- | --- |
| Material | Other names | Refractive Index | Abbe number | Price | Details |
| PMMA | Acrylic | Polymethyl methacylate | 1.4906 | 53.18 | $ | Good optical properties |
| PC | Polycarbonate | Lexan | Makrolon | 1.5848 | 27.86 | $$ | Good mechanical properties, resistant, higher birefringence |
| Polyolefins | Zeonex | COP | Cycloolefin polymer | 1.5305 | 51.79 | $$$ | lighter, lower moisture absorption |
Discover more about the plastic material used for injection :